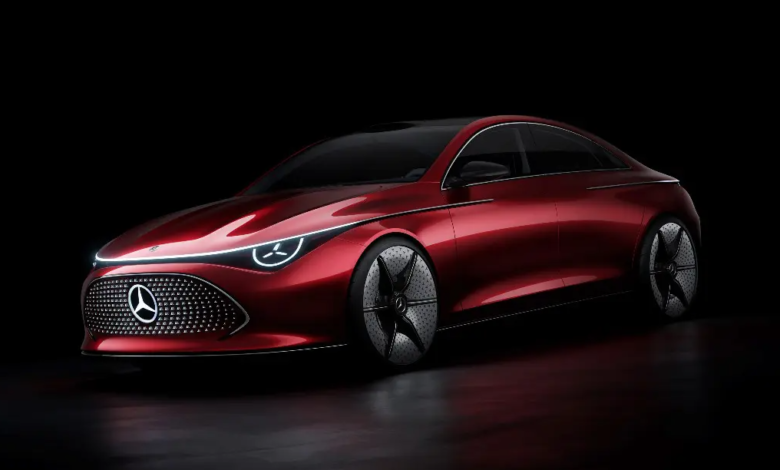 Fast charging in 15 minutes for 400 km, LED lights and artificial intelligence. All the features of Mercedes CLA Class
(sustainabilityenvironment.com) – IAA Mobility, the most important European exhibition dedicated to electric mobility, opens on 5 September in Munich. And among the many expectations there is also that for the new Mercedes CLA Class, the new concept of the German automaker who wants to open a new era for the sector.
The CLA Class Concept is the precursor to a new segment of Mercedes electric vehicles that will include a range of 4 new models. A coupe, a shooting brake and two SUVs are expected.
To get an idea of what to expect, just look at the characteristics of the CLA Class. The concept promises a range of 750 km, with a consumption of 12 kWh/100 km. Fast charging provides a range recovery of 400 km in just 15 minutes, the fact that makes this car highly attractive to an audience – high-end – that routinely travels long distances.
As the eye also wants its share, the new Mercedes on display in Munich features a large glass roof and LED lights with an animated star pattern. Also new is the operating system, which uses artificial intelligence to provide assisted guidance and the so-called Child Presence Detection (CPD), a safety function that reduces the risk of small children being accidentally left in the vehicle during the hot season.
Ola Källenius, Managing Director of the Mercedes-Benz Group, claims that the concept provides "an overview of the first complete family of Mercedes-Benz electric cars developed from scratch to put our Ambition 2039 on the road, with which we aim to achieve net carbon neutrality across the entire value chain in our new vehicle fleet in 2039″.
From this point of view, in fact, the company declares that Mercedes CLA Class uses sustainable materials throughout its structure and interior. "They range from almost CO2-free steel and CO2-Reduced aluminium to sustainably produced and processed leather upholstery and paper-based finishes," says the manufacturer.
Even if it is a "showcar", soon its successors should arrive on the market. And then we can really look at the new frontiers in electric mobility.