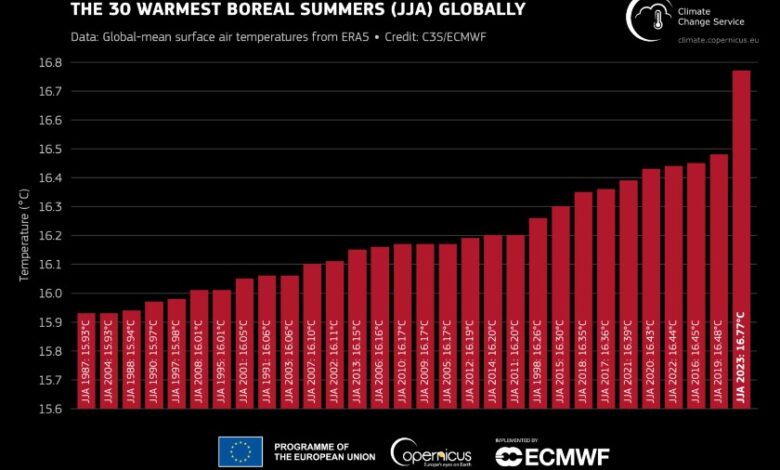 Data from the EU satellite monitoring system Copernicus
Driven by concurrent heat waves, long and very intense, and exceptionally high sea temperatures, summer 2023 set a new record for heat. Globally, June, July and August have never been as hot as this year. The record heat of the summer 2023 has reached quota +0,66 series C on the average of the period 1991-2020.
2023 marks 2016 as the hottest year ever
A very high value, much higher than the second summer season in the standings, that of 2019, which had stopped well 0.31 has C before. While the average temperature in the three months of 2023 was 16.77 at C, 4 years ago it was 16.46 at C. This was the hottest year in history so far. Even for a little while. Considering the data from January to the end of August, in fact, 2023 for the moment is the second hottest year but is detached from 2016 only by 0.01 C. A trifle.
read also Hot record of July 2023: we lived our first month at about +1.5°C
All numbers of the hot summer record 2023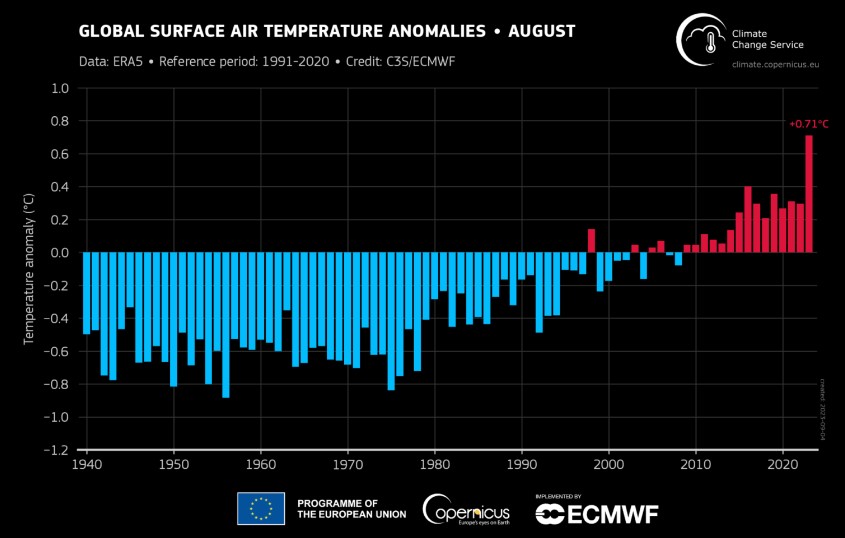 The European satellite monitoring system Copernicus reports this in the usual monthly bulletin. The strong thermal anomalies of the summer are also evident from other data, which remain very significant for the global warming curve even if they do not always record records. In Europe, the summer of 2023 was 0.83 C above the average of the last thirty years with 19.63 degrees average. It's the fifth hottest summer in history for the old continent.
August 2023, globally, was the hottest ever. It is also the month with the highest temperatures after July 2023, which had marked the maximum thermal anomaly ever recorded since the historical series. Also in August of this year it reported the average air temperatures to the surface (2 meters) hottest ever: 0.71 C above the 1991-2020 average and about 1.5 C above the average of the pre-industrial period. In practice, with the hot record of summer 2023, between July and August the Planet has lived its first two consecutive months beyond the threshold of 1.5 degrees.