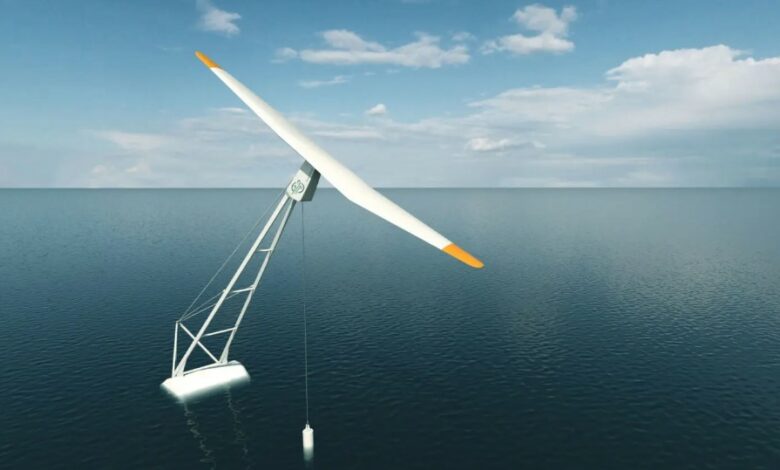 Mitsui OSK Lines invests in single blade floating wind turbine
– The next generation offshore wind? It could also be the one designed by TouchWind, a Dutch startup that created an innovative single-blade floating wind turbine. The idea was born several years ago to Rikus van de Klippe, aerospace engineer and founder of the company, to give shape to a simple goal: to make the energy of the wind accessible, everywhere and for everyone.
Goal achieved at least on paper and able to convince reality like the Japanese Mitsui OSK Lines (MOL) to invest in technology.
How does the single-wing floating wind turbine work?
The machine, named after Mono, has a huge single-piece rotor, installed perpendicularly to a pole that is connected to a large floating barrel. The ship, parallel to the tree, is hung by a buoy. In conditions of rest or weak winds the turbine is tilted towards the sea and the buoy helps the monoplane to stay out of the water. At high wind speeds, however, the tower straightens vertically and the hanging buoy acts as a ballast to act against the lift of the blade. According to the company, Mono is able to handle gusts up to 70 m/s and with its design would reduce losses due to the wake effect of the aerogenerators arranged in series. And it would also reduce estimated costs for floating wind by a 30 percent.
read also A new pyramid design for floating wind turbines
The next steps
TouchWind has been working on technology since 2019, with the help of government grants and a group of support companies.
In July 2023, TouchWind received funding from the Netherlands Enterprise Agency of the Netherlands to produce up to 10 single-wing floating wind turbines with a rotor diameter of 6 meters and a single power output of 12 kW. And from 2024 to 2025, it plans to conduct tests to verify the effect of reducing wind interference on prototypes.
A path that has attracted the eye of Mitsui OSK Lines, as explained by Ryota Hayashi, general manager in charge of the wind energy project unit in MOL. "We are delighted to be able to continue the journey with TouchWind – said Hayashi these days – and to have become shareholders of the company as we see exciting potential in their technology". the investment of MOL will advance the technological development for the practical application of aerogenrators, aiming to acquire commercial opportunities within the supply chain of next generation floating offshore wind turbines in Europe, Japan and other Asian regions.