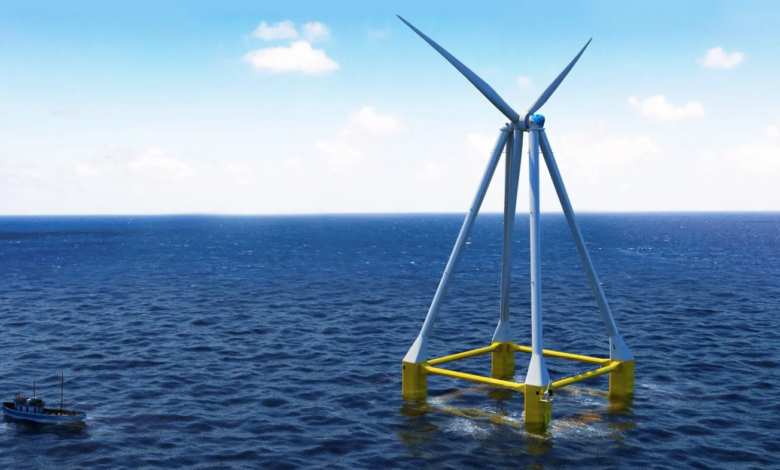 Floating wind turbines change shape and lose weight
(sustainabilityenvironment.com) – The best of offshore technology, renewable and not, is combined to create the special floating wind turbines Eolink: a "pyramidal" wind generator where the traditional tower is replaced by 4 arms convergent at the top.
The eponymous company that invented the plant has announced these days the final investment decision with which the "France-Atlantique" project will take shape. The goal? Install a 5 MW pre-commercial prototype off Le Croisic to demonstrate performance. Also, thanks to the entry of Acciona Energy and Valorem in the capital of Eolink, the initiative has collected 22 million euros and is ready today to show the goodness of the new design in the test site SEM-REV.
As reported by the company on its website, the secret behind the new floating wind turbines is the integrated design. Thanks to the 4 shafts, Eolink offers a better distribution of forces in a more rigid architecture. The structure uses the technology of the oil platforms of type MODU, that is mobile unit of offshore perforation. This is, the company explains, "a proven technology that offers excellent hydrodynamic performance. With 4 columns instead of 3, it has, for the same stability, smaller dimensions".
Read also The largest floating wind project – hydrogen? It will arise in Italy
But the geometry of the rotor represents the heart of the Eolink patent. In detail, the blades rotate around a fixed axis that crosses the hub and is supported at both ends. This makes it possible to distribute the weight evenly, reduce it, and use longer and more flexible blades. Ultimately Eolink can support a rotor three times larger than its float. In the 15 MW version, the floating turbine can use 130 meters long blades with an energy density of 282 W/m². But the company goes straight to 20 MW.
"The Eolink concept is unique in the world thanks to its patented pyramidal shape that reduces steel mass by more than 30%. As is the case in the shipbuilding industry, its modular design with steel panels facilitates the industrialization process for large-scale implementation," the company explains in a post on LinkedIn. The installation of the 5 MW turbine will begin by the end of 2022, the anchor elements will be realized in spring 2023 and commissioning is scheduled for the following year.