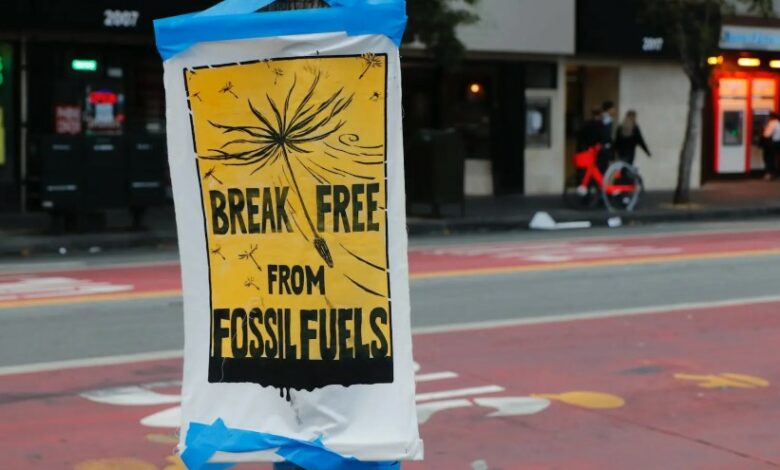 In conjunction with Global Fight To End Fossil Fuels
(sustainabilityenvironment.com) – Hundreds of thousands of people took to the streets around the world over the weekend to say stop to fossil fuels. Over 650 events in hundreds of cities demand the phase-out of gas, oil, and coal. It is the appeal of the Global Fight To End Fossil Fuels that comes close to the Climate Ambition Summit, the UN summit that takes place this week, in conjunction with the UN General Assembly, and aims to catalyze climate action to pull the sprint to the Cop28 in Dubai. But the expectations are very low: in New York will not see even the landlord Joe Biden.
A three-day global protest to invite nations "to renew and strengthen their commitments to a rapid, fair and equitable elimination of fossil fuels in favor of sustainable renewable energy" taking advantage of the UN summit. And to denounce the fossil fuel industry "which has made obscene profits at the expense of the world population, biodiversity and a safe and livable climate".
Eternal subsidies and new deposits
Once again, the demand of climate movements around the world is that the first step of states is to abolish fossil subsidies and stop new hydrocarbon mining projects. Two fronts of bad news. In 2022, implicit and explicit fossil subsidies topped $7 trillion, according to IMF estimates. The total amount is 7% of global GDP, almost double what we spend on education. And even the countries that had promised to cancel them are turning a blind eye: only Italy has donated 1.2 billion since the beginning of 2023.
The expansion of fossils does not stop, driven by the rhetoric of industry that this year dominates, literally, the presidency of COP28. According to an analysis by the German NGO Urgewald, 96% of fossil companies today still have plans for development and expansion.
read also Africa at COP28 will not demand fossil phase out
In Europe the stop fossil fuels is necessary already from 2035
On the European side, 43 NGOs call for an end to fossil fuels by 2035 and present a 10-point plan to achieve this goal. "We urgently need the next Climate Commissioner to set ambitious EU climate and energy targets for 2040, with a crucial interim target for 2035 to phase out fossil gas and rid Europe of the triple threat posed by fossil gas lock-in: the climate crisis ," says Esther Bollendorff of Climate Action Network Europe.