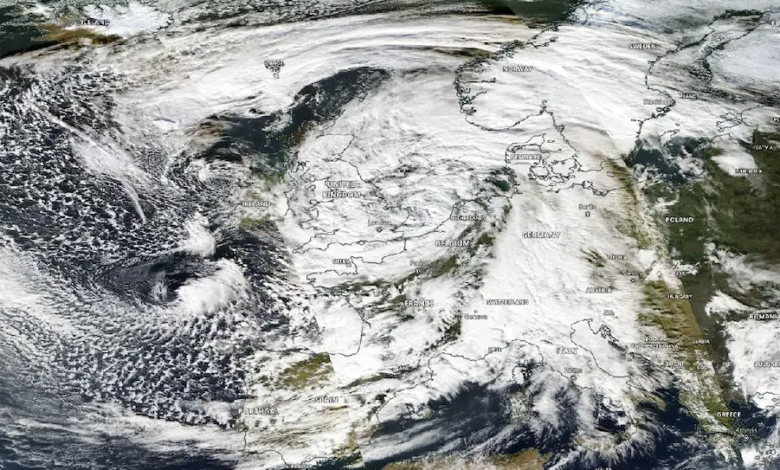 Warmer seas increase the amount of rain poured by storm Ciarán
In Europe there are at least six deaths, two in France, one in Spain, one in the Netherlands and two in Belgium. It is the first count of the damage caused by the passage of storm Ciarán. In France it has left 1.2 million people without electricity, of which 700 thousand in Brittany alone. Many broken records, both for the speed of the winds (207 km/h at Pointe du Raz, 160 km/h on the English island of Jersey) and for the height of the waves (often more than 10 meters with a tip of 21 meters off Brittany).
What is Storm Ciarán?
The storm Ciarán is an extra-tropical cyclone, that is a large atmospheric vortex generated by a low-pressure zone that forms in the middle latitudes, outside the tropical belt. If in the latter phenomena of such intensity are common, it is rare that a storm formed in the North Atlantic, like the one that is crossing Europe these days, is characterized both by very abundant rain and strong winds.
Ciarán and climate change
An event, therefore, that has some exceptional features. What do they depend on? Partly, in all likelihood, the impact of climate change is behind the violence of Storm Ciarán. At least for one thing: the amount of water poured mainly on Britain, Spain, France, Belgium and Italy.
Changes in ocean temperature, in fact, reverberate on the concentration of water vapor present in the atmosphere. Which in turn increases the volume of precipitation. On average, for every 1 ºC of ocean warming, the atmosphere is able to achieve a 7% higher water vapor concentration. In addition to the water warming trend of recent decades, 2023 has seen exceptionally high values in much of the globe. And especially in the North Atlantic.
Since March, the temperatures in this sector have been consistently above the highest values ever achieved in the historical series. While the distance from the 1981-2011 average was very marked between July and August, by the end of October temperatures were still more than 1 ºC above the norm, plus two standard deviations.
To understand the exact role of other factors in the formation of the storm Ciarán will have to wait for an attribution study that gives a complete and detailed photograph. Factors that may affect the formation of extra-tropical cyclones include the extension of sea ice to the poles, the strength and position of the jet stream and a phenomenon related to the natural variability of the Earth's climate system such as El Niño, which in this period has a very strong signal.