Water
Floating wind and aquaculture, the Chinese wedding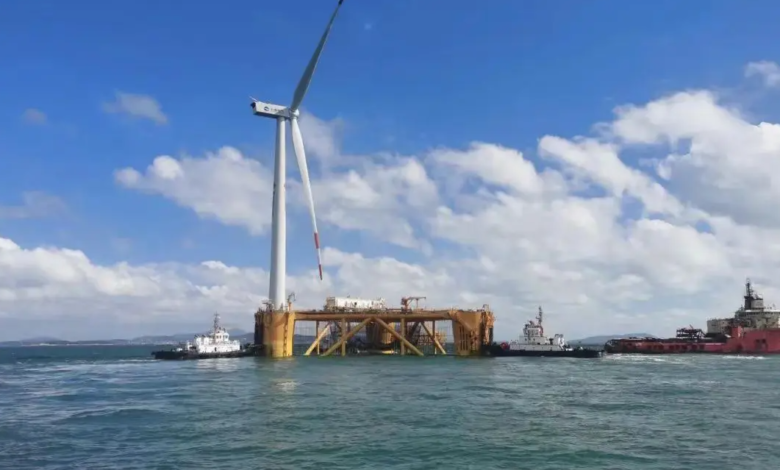 Cultivating the multifunctionality of floating wind
(sustainabilityenvironment.com) – The project was announced in 2021 by Shanghai Electric. Today finally the Guoneng Sharing, the first floating wind farm in deep water integrated with aquaculture, has been completed. The installation, developed by Longyuan Power Group with Shanghai Electric Wind Power Group, is located in the waters off Putian, in the Chinese province of Fujian. Here, where the seabed reaches a depth of 35 meters from the surface, on a floating semi-submersible platform with three columns stands a 4 MW offshore wind turbine, surrounded by lightweight and flexible photovoltaic modules.
read also Growing algae at sea among wind turbines
In itself, the structure has nothing exceptional except that its base was specially designed to allocate a large space to fish farming. "Fish farming requires a large amount of water, so by taking advantage of the free space under the floating platform we can improve service efficiency and maximize benefits. In addition, the deep sea has good water quality for fish farming", said Feng Xiaoxing, deputy chief engineer of Jiangsu Longyuan Zhenhua Marine Engineering Co, who developed the plant.
At full capacity, explains Shanghai Electric in a press release, the floating wind farm should generate 96,000 kWh of electricity per day, equivalent to the daily energy consumption of 42,500 people. At the same time, yellow crows will be kept in the fishnet cage for aquaculture.
The entire project was also subjected to a wide range of rigorous testing under almost 200 operating conditions. Shanghai Electric Wind Power Group has developed a system of intelligent terminals for floating wind turbines, which can improve reliability and ensure the safe and efficient operation of the wind generator. The floating platform and 4 MW wind turbine completed assembly at Jinjing Pier in Pingtan, before being towed to Putian and connected to the anchors in late September.