Energy
SunDrive's copper PV is in production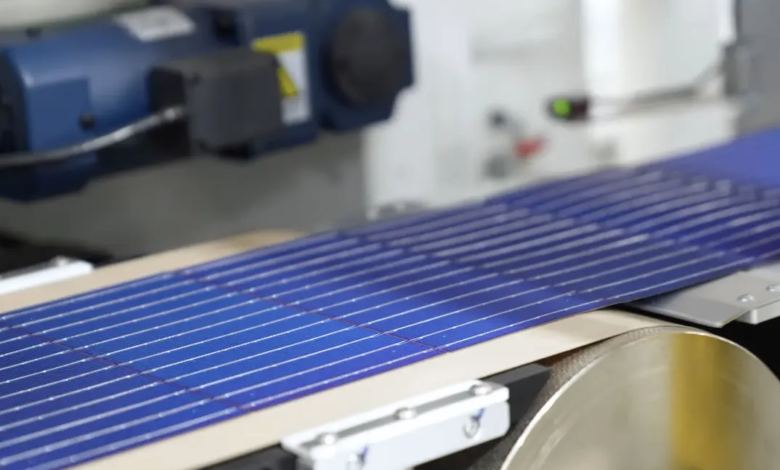 Copper instead of silver for high-efficiency solar cells
"For the first time in over a decade Australia has produced a solar cell mass produced". With this phrase, the Australian SunDrive Solar officially inaugurated yesterday, in Kern, the pilot plant of its innovative photovoltaic with copper instead of silver. The Australian Prime Minister, Anthony Albanese, and the Minister for Climate Change and Energy, Chris Bowen also took part enthusiastically.
"What matters is innovation, creativity and scalability," said Albanese. "And here we have everything. And there's no reason why Australia can't be a manufacturer of solar panels for home use, as we are the highest per capita user of solar panels in the world. We can also export what we produce. We know that if we do not move forward the world will overtake us".
The photovoltaic with copper
SunDrive Solar has developed a cell metallization technology that uses copper instead of silver in making contacts. The reason behind this choice is simple. Today silver accounts for about half of the cost of converting a simple silicon wafer into a finished solar cell, and photovoltaic manufacturing accounts for about 25% of the world's annual industrial silver consumption. In contrast, copper is about 100 times cheaper and 1,000 times more plentiful, making it an excellent economic candidate.
And under the surrender? The company has no doubt: the copper coating "is more conductive than silver paste, reducing resistive losses and improving efficiency," SunDrive explains. In addition, the company is able to produce smaller and closer electrode lines. The results speak for themselves. In September 2022, SunDrive announced 26.41% efficiency for a standard-sized silicon heterojunction (HJT) solar cell with copper plating.
The Copper Solar Cell Factory
Of course: SunDrive's copper photovoltaic cells are not the only ones that have tried this approach to replace silver. But at the moment the company holds excellent results on the performance front and opened its first production line. The pilot plant with a capacity of 1.5 MW/year is only the first phase. Thanks to the US$11 million granted by the Australian Renewable Energy Agency (ARENA), the company will be able to bring production capacity above 100 MW/year.
Darren Miller, ARENA CEO, said it is critical to support internal innovation to further reduce the cost of solar energy. "To make ultra-low-cost photovoltaics a reality, it is critical that our scientists and researchers continue to innovate and improve solar cells and module design," Miller stressed. "SunDrive technology that replaces silver with copper represents a potential turning point and highlights why now is the time to invest in technologies for our future economic success".
But will copper always be cheap?
In this 2023 uncertainty surrounded copper demand and had a significant impact on prices. Between China's slow economic recovery and the weak economic outlook in the United States, this metal experienced strong volatility with an average price reaching $9,356 per ton in January 2023. And in the near future? According to BNEF analysts, the primary supply of copper will be lower than demand between 2023 and 2027, with secondary production that will increasingly support a supply of up to 5.4 million tons by 2027.