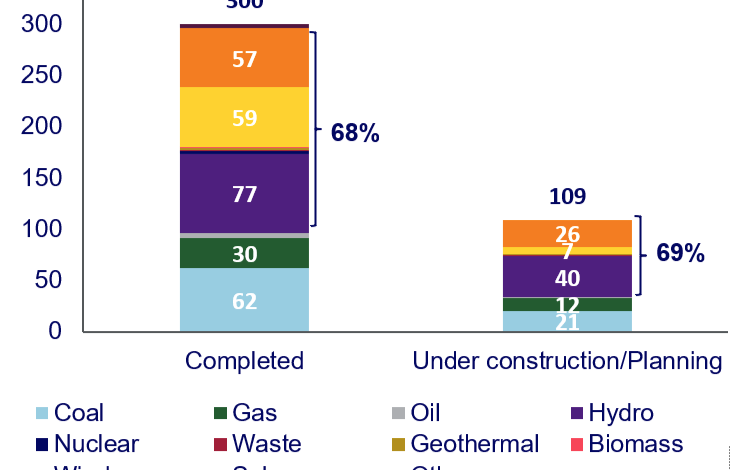 One Belt One Road, where's the power?
– It's been 10 years since Beijing launched its Belt and Road Initiative, also known as the New Silk Road, a major global infrastructure development project. And today the analysis company Wood Mackenzie takes stock of the situation to understand how Chinese strategy has affected energy growth outside its borders. It turns out that in these ten years the "One Belt One Road" has realized over 300 energy projects abroad, for an estimated investment value of about 200 billion dollars and a total cumulative capacity of 128 GW.
It wasn't always a downhill road. Indeed, 20% of planned energy projects have never seen the light of day because of a series of problems that have led to their cancellation or shelving. The data reported in the new report "Belt & Road at 10: powering on through growing pains", show how most of the works (68 percent) completed are renewable plants or low carbon systems (a minimum percentage is linked to nuclear). By contrast, however, the highest share of installed capacity (57 percent) belongs to traditional fossil fuels: coal, gas and oil.
In this complex the countries of Asia are the main destination of the energy projects of the New Silk Road, representing 75 percent of the total capacity. In particular, Pakistan, Vietnam and Indonesia are the three main energy markets of the Belt and Road Initiative (BIS) out of a total of 72 countries involved.
Belt and Road Initiative, will increase the weight of fv and wind
Explains Alex Whitworth, vice president and head of research on energy and renewable energy for Asia Pacific at Wood Mackenzie "Despite progress, Chinese companies have faced significant challenges, particularly in developing markets. Of the 481 BIS projects monitored by Wood Mackenzie, 72 were cancelled or suspended after the launch". The most affected initiatives? The ones in Asia and Africa.
"The most common factors that led to the failure […] were changes in policies and costs. Chinese companies faced greater risks when developing greenfield projects, with a 27% write-off or provisioning rate, compared to a 9% failure rate for EPC turnkey projects (engineering, procurement and construction) pure," Whitworth added. However, future prospects remain stable. Analysts estimate annual growth of about 13 GW for Chinese projects abroad and a large upside potential for wind and solar. Asia and Africa will remain the first two markets, welcoming 93% of future works.