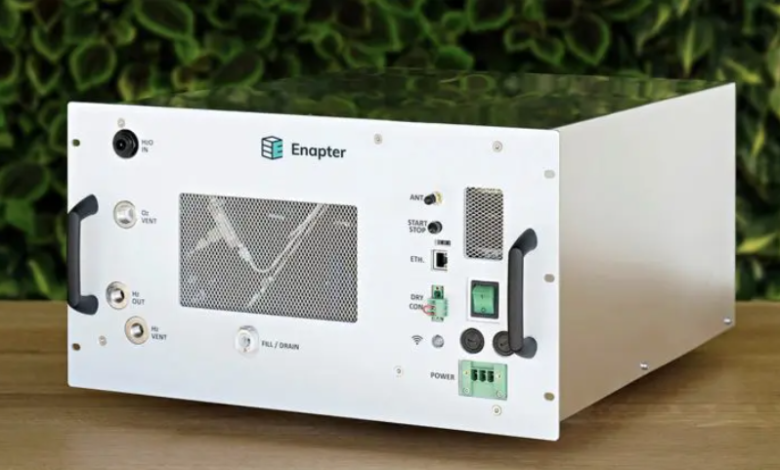 The first plug-and-play modular electrolyzer born from Made in Italy
(Sustainabilityenvironment.com) – What if starting to produce green hydrogen is as simple as lighting a light bulb? The technology behind water electrolysis is certainly complex, but the use of water does not have to be. Solutions such as EL 4.0, the new plug-and-play modular electrolyzer from Enapter, make the usage of water more convenient and accessible today.
The electrolyzers AEM
The company designs and manufactures highly efficient hydrogen generators based on electrolysis with anionic exchange membranes (AEM – Anion Exchange Membranes). This technology has several advantages over other known processes. For example, it does not need the special diaphragms used by conventional alkaline electrolysis; it does not need platinum group metals and rare earths, which are instead needed for proton exchange membrane (PEM) electrolysis. As a result, it offers reduced costs, as well as excellent efficiency and flexibility.
EL 4.0 is the fourth generation of AEM electrolyzers that Enapter has developed since 2017 and represents the smallest and lightest version. The device was created to provide a product that can be easily installed and integrated. A plug-&-play system that can significantly reduce the installation time. And at the same time be able to adapt to the needs of the end customer, growing or struggling with them. The plug-&-play modular electrolyzer is based on standardized units that can be stacked and combined for larger projects.
Production begins in Pisa
"The next milestone of our mission: Replacing fossil fuels with green hydrogen," says Sebastian-Justus Schmidt, co-founder and CEO of Enapter. "EL 4.0 will become a key tool for system integrators, enabling them to quickly implement hydrogen production and implement the market growth the world needs. We are sure that the future mass production of these AEM electrolysers will radically change the production of green hydrogen".
Series production of the new electrolysers is currently underway at the Enapter plant in Pisa. The first deliveries to supplements are scheduled for the summer. The start of mass production (> 10,000 AEM EL 4.0 modules per month) will start incrementally from 2023 at the Enapter Campus, currently under construction in Saerbeck, Germany.