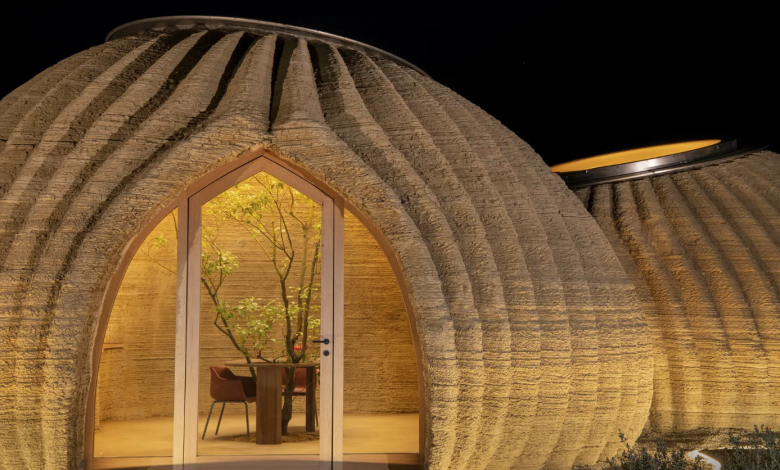 The 3D printed house is 200 hours of printing, 350 layers, 150 km of extrusion, 60 cubic meters of natural materials
(Sustainabilityenvironment.com) – The first 3D printed house with local raw earth is now a reality. Called TECLA, Technology and Clay, the prototype is the result of a collaboration between architect Mario Cucinella MCA and WASP, pioneers of 3D printing dedicated to the construction industry. TECLA's goal is to respond to the problem of overpopulation and housing shortages, especially in the world's poorest areas, through a sustainable, ecological habitat that requires only local raw materials.
The concept makes it possible to follow a construction chain completely free of waste and scrap throughout the process. TECLA has developed thanks to the collaboration of the SOS School of Sustainability, a professional course founded by architect Cucinella that combines education, research and practice.
A raw earth habitat
The prototype of 3d printed house was built in Massa Lombarda (RA) thanks to Crane WASP, the latest generation of 3D printers developed by the company of the same name. They work simultaneously to maximize the performance of one of the oldest and most ecological materials in the world: raw earth.
The result is a double dome construction solution that allows the TECLA envelope to be at the same time structure, cover and cladding. The prototype contains an open space as a living area and a sleeping area with a small bathroom.
Read also Acorn the curved concrete floor, reusable and removable
On the outside, sustainability is reflected in the small lake that collects rainwater and greywater, filtering it through a microprocessor of Phyto-purification. In order to be reused for the irrigation of the garden. A second cell houses solar and thermal panels for the production of clean energy.
A kit for 3D printing home
The goal of the project is to be replicable anywhere. The entire process is replicable and can be self-produced thanks to WASP's Maker Economy Starter Kit, the software that controls 3D printers, speeding up construction and limiting industrial waste. As many as 200 hours of printing, 350 layers of 12 mm, 150 km of extrusion, 60 cubic meters of natural materials for average consumption of less than 6kW.
"From shapeless earth to earth in a house format. Today we have the knowledge to build without impact with a simple click," says Massimo Moretti, founder of WASP.
"TECLA is no longer just a theoretical idea, but we can provide a real and feasible answer to the living needs of today and of the future, which can be adapted to different contexts and latitudes", continues architect Cucinella.