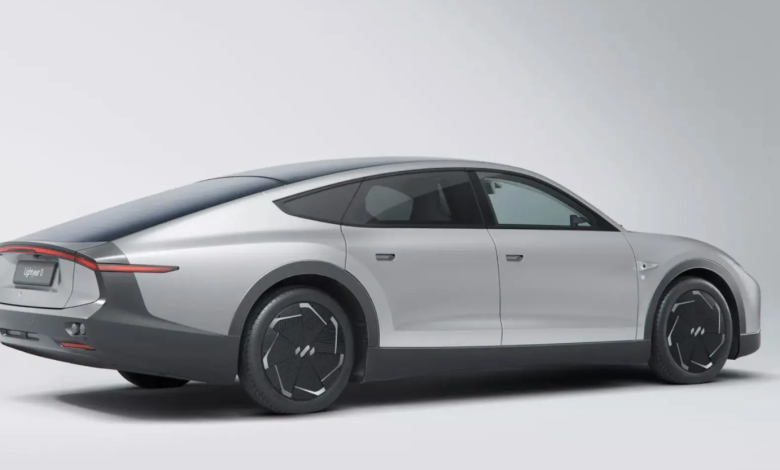 (Sustainabilityenvironment.com) – Presented the solar car Lightyear, an electric sedan equipped with 5 square meters of solar cells integrated in the body for 70 km of extra autonomy per day

"This month, six years of innovation have come to a head ". With these words the Dutch company Lightyear has lifted the curtain on the final version of its solar car Lightyear 0. After making deals with over 100 suppliers, the company said it was ready to start commercial production, presenting the latest technical specifications. Compared to the initial design, the vehicle loses a hundred kilometers of autonomy. The target of the 725 km with a recharge has now turned into 625 km, evaluated on the cycle WLTP (Worldwide Harmonized Light Vehicles). However, greater mileage than that achieved by the Tesla Model 3 with AWD system, despite the significant difference in the accumulation of board: the first has a battery pack of just 60 kWh, the four-wheeled Elon Musk a system of 82 kWh.
The merit of this advantage goes to an excellent coefficient of aerodynamic resistance (0.19), to a particularly efficient electric transmission and to the solar skin that covers the body. Lightyear 0 stands out, in fact, thanks to 5 square meters of perfectly integrated photovoltaic cells that give the medium 70 km a day.

"To minimize plug charging and maximise battery life, the industry's strategy so far has been to add batteries," said Lex Hoefsloot, the company's co-founder and CEO. "This increases the carbon footprint of production and, in turn, increases the weight and need for high-power charging stations. Our strategy reverses this approach. Lightyear 0 offers more battery life with less battery, reducing weight and CO emissions per vehicle".
In cloudy climates, the company assures, with an average journey of about 35 kilometers per day, you can drive up to two months before you have to think about charging. In the sunniest countries, you could get to seven months. Less powerful, however, performance. Lightyear's solar car takes 10 seconds to accelerate from 0 to 100 km/h and can reach a maximum of 160 kmh. The first limited edition deliveries will begin in November at a price, however, accessible to a very few.