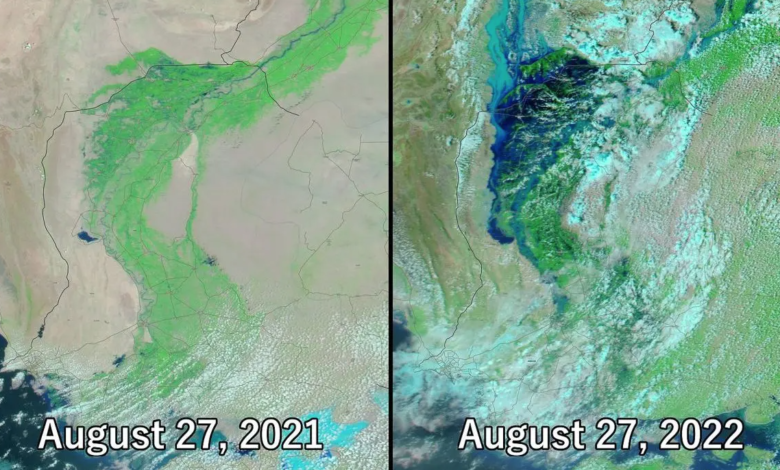 Floods in Pakistan are the most violent since 2010
(Sustainabilityenvironment.com) – More than 1,000 dead, thousands were displaced, 83,000 cattle drowned in 24 hours, 1 in 7 Pakistanis were directly affected by the most devastating flood since the historic one of 2010. This is the provisional outcome of the floods in Pakistan. A "climate catastrophe" among the worst in the last 10 years, according to Minister for Climate Change Sherry Rehman.
"When all this is over, we may have 1/3 of Pakistan underwater. After that we will have to rebuild. We need all possible help and technical advice on how to deal with the situation. We need better planning, sustainability and climate resilience," Rahman told Turkish broadcaster TRT on August 27.
The flooding in Pakistan this year is exceptional. "Pakistan has never seen an uninterrupted cycle of monsoons like this. 8 weeks of continuous torrential rains have left vast areas of the country under water. This is not a normal monsoon season, this is a flood in all respects, which has had an impact on over 33 million people," explained the minister at DW. The rains are leaving underwater especially in Balochistan, for ¾ hit by the flood and Sindh. "Pakistan has never seen torrential rains so incessant. This is very far from a normal monsoon. It is a climatic dystopia on our doorstep".
Already between July and August, the country had been hit by the most abundant rainfall recorded from the 60s to today. In just over a month, the province of Balochistan received 305% of the water that usually falls in a whole year. Evidently abnormal values. But how much dependent on anthropic climate change, remains to be seen. Although national politicians' statements point to the climate crisis, The exact contribution of man's weight on the monsoon season and on the flooding of many rivers already enlarged by the accelerated melting of glaciers will be evaluated precisely in the coming weeks.