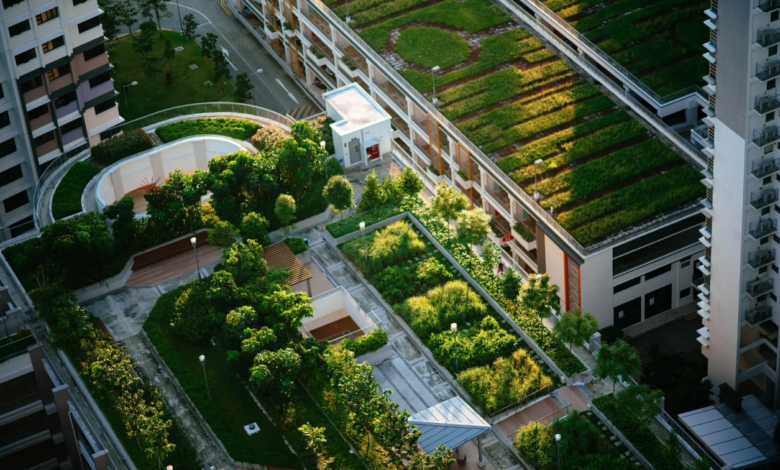 (sustainabilityenvironment.com) – Is the roof of buildings the ideal place to create a vegetable garden where healthy plants grow? Can it be a possible solution to make cities – expanding irreversibly around the world – greener and more sustainable?
The advantages of the roof garden
For some time there has been the practice of urban gardens, growing a vegetable garden or a roof garden is the latest trend that is emerging in cities.
Many positive aspects of this practice. It is not just about providing healthy food; a cultivated roof increases the thermal insulation of buildings with advantages over energy saving, reduces urban heat and improves air quality.
But there is a downside. On the roof, stronger solar radiation, greater exposure to wind and lower soil moisture, all of which make smaller and less healthy plants grow.
Fertilize with the CO2
To overcome these drawbacks and to increase the degree of sustainability of crops on top of buildings a research team is conducting an experiment that plans to reuse the CO2 discharged from the air intakes of buildings as a kind of fertilizer.
The experiment involves growing corn and spinach on the roof of a Boston University campus building.
The objective of the research is to verify if inside the buildings there is an untapped and usable resource to grow larger and more robust plants in the urban garden on the roofs of buildings.
Read also Recovering CO2 to produce zero carbon concrete: Seratech technology
The researchers named their experimental garden BIG GRO and published the research results in the scientific journal Frontiers in Sustainable Food Systems.
If the research results were positive, cultivating on the roof of buildings could spread and make the installation easier with undisputed food and environmental benefits.
Why corn and spinach
The choice of corn and spinach was not accidental: they have different photosynthesis and in the case of spinach there is a greater sensitivity to high levels of CO2 (so they could make the most of the one that comes out of the vents). They are therefore useful to understand how it has affected plant growth.
The researchers measured the CO2 emissions in the classrooms to see how much of it reached the plants and determined that the levels were high enough to affect their growth.
Monitoring of spinach plants showed surprising results in terms of size and number of leaves; After collection, it was seen that those grown near the exhaust vents had a biomass four times higher than those grown next to a control fan.