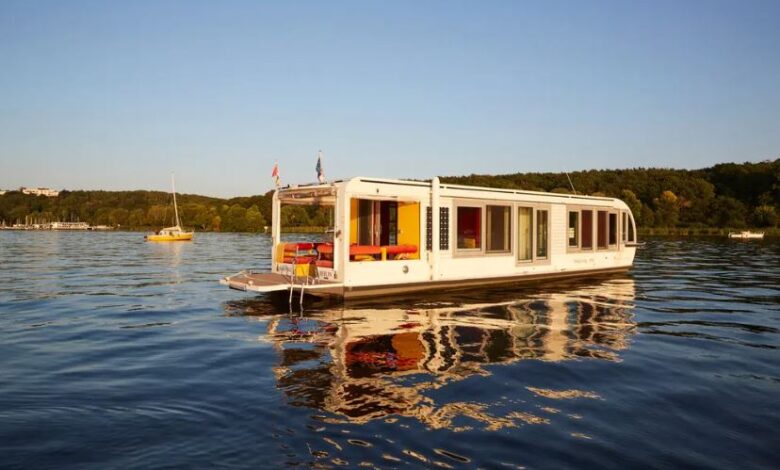 In the future this Tiny Home will have a sewage treatment system and a waste recycling plant
The continuous transformations imposed by climate change are pushing designers towards self-sufficient, transformable and flexible housing types. But what happens if the house even becomes able to move, floating on the rising seas? The answer is called Tiny Home on the water, a small housing unit built directly over a particular motorboat.
To give life to this original solution is the team of Crossboundaries, an interdisciplinary and international group whose design aims to investigate innovative solutions outside the box to address urban problems.
A small houseboat
Despite being only 15 metres by 4 metres long, this Tiny Home has everything its owner needs: a sleeping area with a retractable bed to make room for the workstation, a living area with kitchen and services, as well as a retractable dashboard.
The characteristics of the Tiny home have led the owner to nickname it Fàng Sōng, or Relax.
A self-sufficient living machine
If the climate change will cause the sea level to rise, it will be enough to remove the anchor and float above the change.
In addition, thanks to a series of plant solutions and renewable energy produced directly on board, the small houseboat is also self-sufficient.
Research into the durability and quality of materials has pushed design to a craft level. Thanks to a digital direction every little detail has found a place guaranteeing sustainability and efficiency. The boat is "intelligent and self-powered" thanks to a set of innovative solutions in terms of solar energy, heating source, water and waste management.
On sunny days, the houseboat is completely self-sufficient thanks to its solar panels, with an average autonomy of 50 km per day. A pellet stove, remotely controlled via app, has been installed to meet heating requirements with a renewable energy source. In the future, the owner plans to add a water purification system and a biological wastewater treatment unit to boost the boat for long trips.