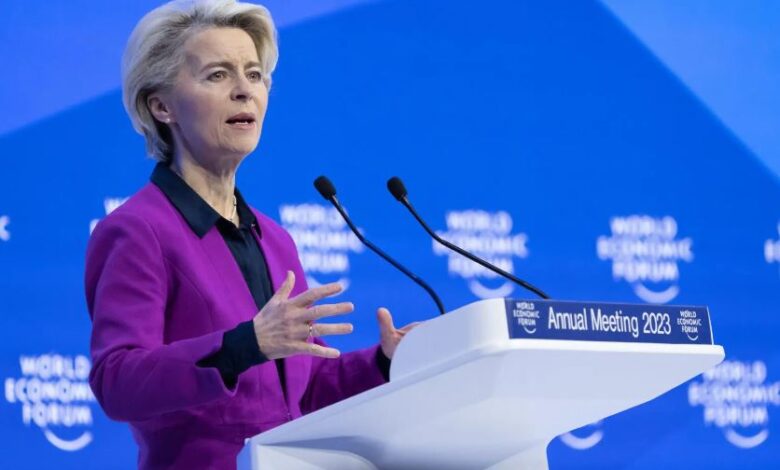 Standards, finance, skills and trade: the 4 pillars of the Green Deal business plan announced at the World Economic Forum
"We have a plan. An industrial plan for our Green Deal that will make Europe the home of clean technologies and product innovation on the road to carbon neutrality". With these words, the President of the European Commission, Ursula von der Leyen, today presented the next EU steps on green tech and industrial development at the World Economic Forum.
Speaking from the World Economic Forum stage in Davos summed up the four pillars of the Plan and promised new efforts to maintain high EU competitiveness. Starting with a deep regulatory intervention to accompany, support, and speed up key energy transition solutions, such as wind, heat pumps, photovoltaics, clean hydrogen, and storage systems. "To help make this happen, we will be presenting a new Net-Zero Industry Act, modeled on our Chips Act, which will identify clear targets for European clean technology by 2030, explained the EU Executive's number one".
read also European Green deal: three tenders for the New European Bauhaus
The objective will be to concentrate investments on strategic projects along the entire supply chain, simplifying and speeding up the authorizations for new factories. A complex work that will be carried out in parallel with the Critical Raw Materials Act and new business partnerships to overcome the existing monopoly on raw materials and components for greentech. "We can create a critical commodity club by working with like-minded partners – from the US to Ukraine – to collectively strengthen supply chains and diversify away from individual suppliers".
The Green Deal business plan will also work on the economic aspects, increasing investment and financing of clean technology production. The European Commission intends to propose a temporary adaptation of EU State aid rules in order to speed up and simplify them. "Easier calculations, simpler procedures, accelerated approvals. For example, with simple tax-break models. And with targeted aid for production facilities in strategic clean-tech value chains, to counter relocation risks from foreign subsidies". Not only. In the medium term, Brussels is preparing to launch a European Sovereignty Fund as part of the revision of the Community budget, but is also considering bridging measures to intervene in this transitional phase.
"The third pillar of the Green Deal Industrial Plan will be developing the skills needed to make the transition happen. The best technology is only as good as the skilled workers who can install and operate it. And with a huge growth in new technologies, we will need a huge growth in skills and skilled workers in this sector. This will cut across all that we do – whether on regulation or finance – and will be a priority for our European Year of Skills", added von der Leyen to the World Economic Forum, recalling the growing need for skilled workers for the transition. The last step? Keep your guard up in the global market. "We will use all our tools to address unfair practices, including new foreign aid regulations. We will not hesitate to investigate if we believe that our public markets or others are distorted by such subsidies".