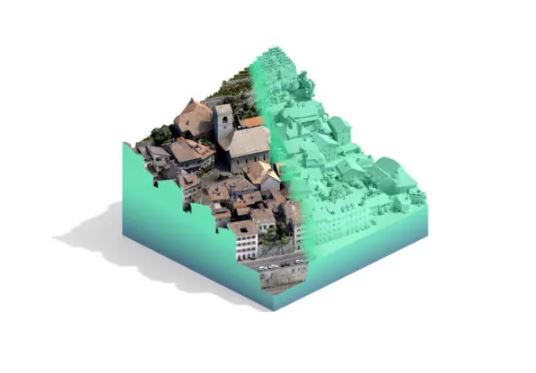 3D images can be integrated with any kind of georeferenced information to facilitate planning
(sustainabilityenvironment.com) – A "Google Earth on steroids" is with this unusual, but definitely appropriate description that the spin-off of the EPFL describes its latest creation: Uzufly.
Born from young creative minds in the heart of the Innovation Park of the Lausanne Polytechnic School of Research, this program combines urban planning and virtual reality, allowing urban planners to map and make development plans with incredible precision.
Uzufly's system uses drones to take aerial photographs, producing thousands of images transformed into advanced 3D models to create real-world Digital Twins.
"We basically use the same technology as Google Earth – that is, ariel photography," says Théo Benazzi, co-founder and CTO of Uzufly. "But while Google uses airplanes to take huge numbers of pictures at high altitudes, we use drones that have smaller cameras and capture images much closer to the ground. That's why we can generate 3D models at the level of a neighborhood or an entire city."
Digital Twins at a click
The most interesting aspect is actually the possibility offered by the program to incorporate an infinite series of data to the models reproduced in 3D. Digital Twins can be enriched by all kinds of georeferenced data: from zoonization areas, to underground infrastructure, even considering the data of the Federal Office of Topography of Switzerland so that information on the solar generation capacity of individual roofs are visible to everyone through the simple 3D model.
Read also Stuttgart's Digital Twin to Achieve Urban Sustainability
The team calls it a "virtual job application" for urban planning. The Uzufly system could, for example, greatly simplify the important work that precedes a project.
"City officials have used our system to determine how far they could extend an existing building before running into zoning limits,"says Romain Kirchhoff, co-founder and CEO of Uzufly. "It's also helped city planners figure out how a new building would fit into a given neighborhood. With our system, designers get a good feel for spaces – much better than they can from planting stakes in the ground. It makes urban planning easier and improves decision-making".
The search does not stop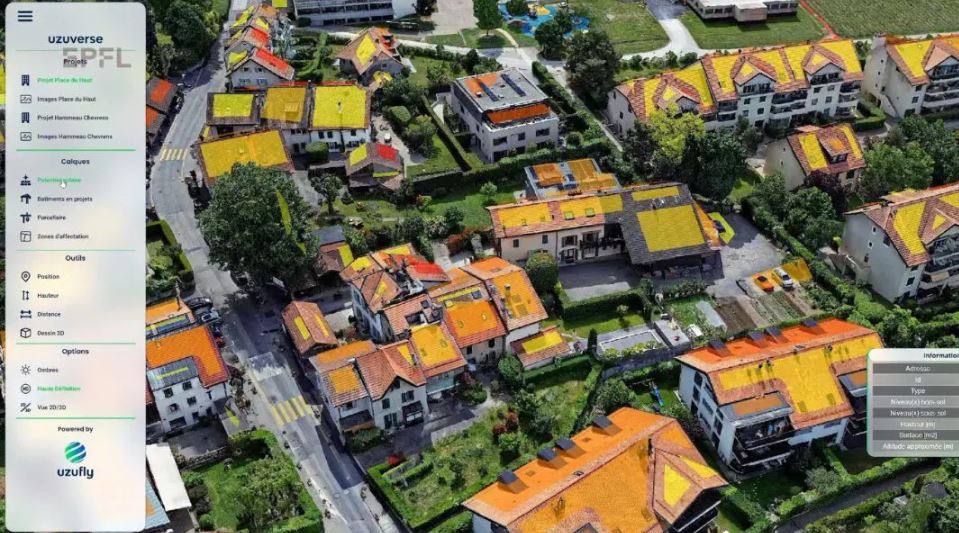 Thanks to its proximity to the main campus of the EPFL, the Uzufly project has been able to count on one of the most important international research and development centers. The project is currently working with architecture students to improve its 3D models of buildings. And with the collaboration of the Geodetic Engineering Laboratory (TOPO) is mapping an avalanche to create a 3D model of the mountain slope with the goal of future prevention.