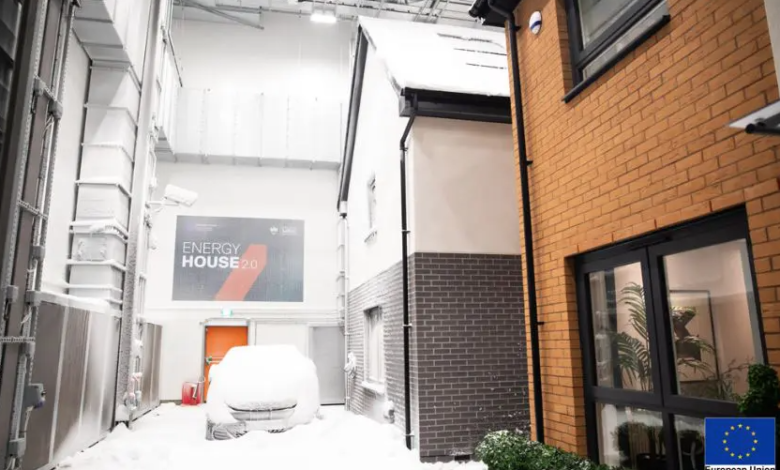 During the test the two houses will be subjected to temperatures between -20 and 40ºC
Recreate the extreme conditions imposed by climate change, but in total safety guaranteed by a scientific laboratory. The goal is to learn how to save energy at home whatever the weather conditions outside. The particular research project called Energy House 2.0 and was carried out by scientists from the University of Salford in Manchester.
With GBP 16 million of funding from the European Regional Development Fund (ERDF), in February 2022, the construction of the largest research facility, capable of full-scale testing of the performance of two single-family buildings, subjecting them to the extreme, but controlled weather. The maxi laboratory of Energy House 2.0 is divided into two environmental chambers, each able to accommodate two single-family buildings, where recreate temperatures ranging from -20 to + 40 ºC, simulating at the same time, wind, rain, radiation, humidity, and sun.
This unique structure will allow you to test all the components that are part of a house, from the materials with which it is built up to technological solutions, to get to design more and more performing buildings, based on emissions and low energy consumption.
Field testing to save energy at home
The operational phase of the project began in June 2022 with the construction of two facilities in collaboration with the real estate giant Barratt Development and the materials efficiency experts of Saint-Gobain. In the same way the other two sections for the tests remained empty, and can be rented from the constructors of the whole world in order to test their constructive solutions before even putting them on the market.
read also Thermal insulation: smart material which changes color under an external electrical stimulus
The two pilot houses are built in typical British style. Covered with decorative bricks on a frame of wooden panels, thermal insulation and solar panels in the roofing. The plant solutions that will be tested include the use of heat pumps, an infrared heating system in moldings, wall panels and mirrors. A series of sensors scattered around the house will capture internal hygrothermal conditions in all conditions tested, identifying the best strategies to save energy in the house. Among the experiments there is also home automation and IT with a voice-controlled interface similar to Alexa.
With the Energy House 2.0 laboratory you will not have to wait for the extreme fluctuations of the weather, but simply enter the parameters to be tested to obtain the desired climate scenario.
The end result, the scientists of the University of Salford hope, will be to save energy in the home, obtaining a comfortable, resilient and, not least, economic environment.
This first phase of testing will continue until next summer