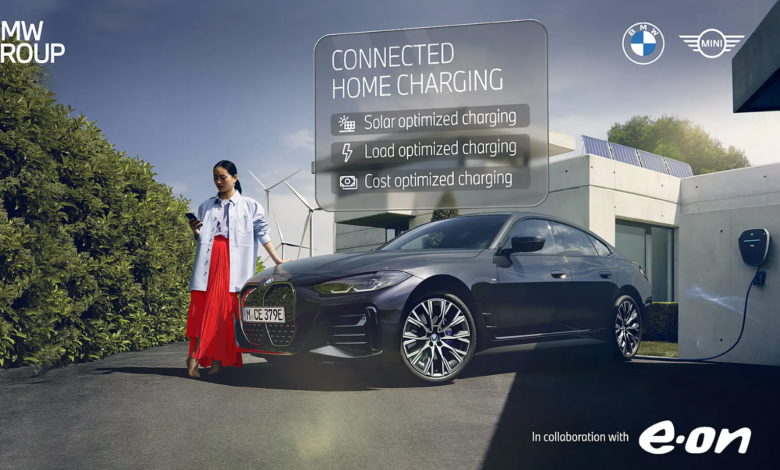 Created an interface that combines electric vehicles, housing and energy market
(sustainabilityenvironment.com) – It is called Connected Home Charging and has been presented as the first pan-European ecosystem for the intelligent domestic charging of electric vehicles. BMW Group and E.ON, signatories of a strategic cooperation agreement dedicated to the European market, are working on the project. Companies will pool their expertise with the goal, explains BMW Board Member Frank Weber, to "make the car an intelligent part of the smart home".
The central aspect of Connected Home Charging will be the common interface able to combine three complex and previously separate systems: the electric vehicles of the BMW Group, the domestic electrical management and the energy market. With the aim of optimizing charging times and increasing self-sufficiency.
How Connected Home Charging, the smart home charging ecosystem will work
According to the press release, the first "Connected Home Charging" offer will be made to clients in numerous European nations starting in the middle of the second half of 2023, setting the groundwork for hardware and networking as a whole package solution. Two alternatives will initially be accessible thanks to the intelligent process control: optimized charging from the sun, which will use as much electricity as possible from the home photovoltaic system, and optimized charging for the load, which will balance the amount of electricity available at home to the best of its ability.
In the coming years, the ecosystem will be further expanded to include additional benefits for customers. In a second phase, the initiative will include, in fact, the charging optimized in terms of costs, which will extend the connectivity of electric vehicles and smart homes to the energy system. Customers will then be able to take advantage of price developments on the power exchange market with a special energy contract.
Cooperation will also create the necessary conditions to enable in the future also bidirectional charging (V2G), the real tool of smart home charging. This technology makes it possible to use the vehicle's high-voltage battery as an energy storage device and to re-import the electricity stored in the customer's home or, at a later stage, into the electricity grid.