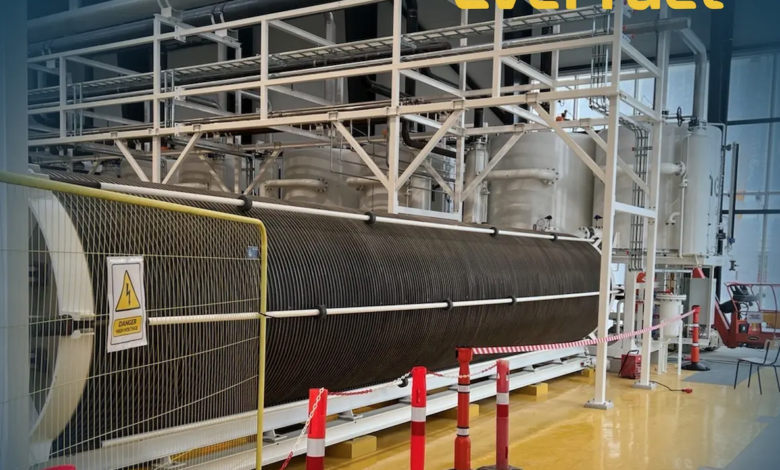 The largest electrolyzer in Europe ready to help heavy industry
(sustainabilityenvironment.com) – Everfuel's HySynergy project has paid off. And thanks also to a funding of 33.1 million euros by the Danish government, it has brought to light the largest electrolyser in Europe. The plant is located in Denmark, and more precisely in Fredericia near a major refinery, and with its 20 MW of power marks a new milestone for the production of green hydrogen. And only the beginning. HySynergy aims to implement several stages to bring the production capacity to 1 GW by the end of the decade.
On the other hand, the initial results give confidence to the project. The 20 MW plant was turned on at the end of December 2022, but in recent months the company is finalizing commercial production. Everfuel experts are working on the mechanical and electrical completion of the facility by the end of the second quarter. At the same time, the company awaits a series of public and third-party approvals needed to bring its green hydrogen to market. This should be achieved in the second half of 2023.
read also World's largest electrolyzer produces 100kg of green hydrogen per hour
"We are keeping our promise to bring commercial green hydrogen to market soon, and I am grateful to the project team and partners who have worked tirelessly to ensure that this happens on schedule in a supply chain market challenging" said Jacob Krogsgaard, founder and CEO of Everfuel. At full speed, Europe's largest electrolyser, and Denmark's first large-scale Power-to-X plant, will help decarbonize industrial processes, such as those of the adjacent Crossbridge Refinery.
In the first quarter of 2023, Everfuel also strengthened its position in the European market by creating a joint venture with Hy24, the operator of the world's largest hydrogen infrastructure fund. Target? Co-invest 200 million shares in electrolysis capacity in the Nordic region.