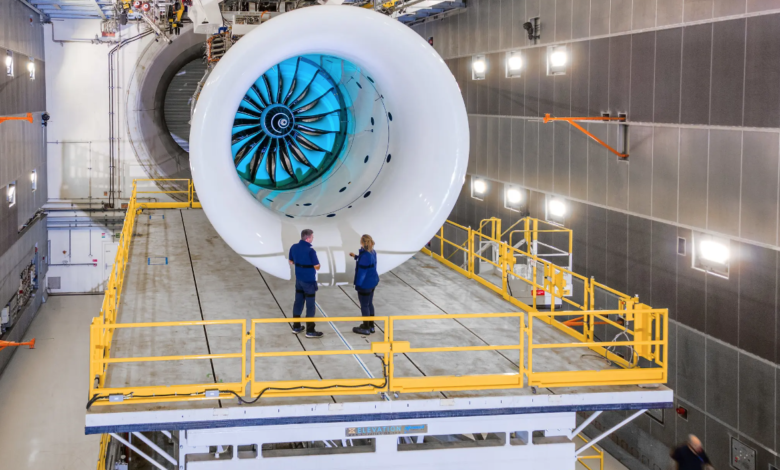 The innovative aeronautical motor of the English company is fed to 100% from SAF
It's at least 10% more efficient than the best aeronautical engine on the market today, the Trent XWB (and reduces noise by 35%). In addition to shattering every previous size record, the carbon and titanium fan blades measure 3.56 meters each and are 3D printed. And it passed the first ground test, conducted entirely with sustainable aircraft fuels made from spent oils. We're talking about Rolls-Royce UltraFan, the gigantic propulsion system that the company has been developing since 2014.
A technology that brings the goal of decarbonising air transport closer, the company says. Indeed, a suite of technologies. Some already applicable on engines in service today. Others scalable for both narrow and wide fuselage aircraft. "In the short term, it is possible to transfer the technologies of the UltraFan development program to the current Trent engines, offering our customers even greater availability, reliability and efficiency," the company specifies.
The Rolls-Roys UltraFan
With Rolls-Royce UltraFan is the first time in 54 years that the company develops a new technology for air propulsion – combined with SAF, the sustainable fuels for aviation, would be able to improve efficiency by 25% compared to the first generation of Trent engines thanks to a particular ratio between the large fan and a relatively small core. And then cut emissions. According to data provided by Rolls-Royce, the UltraFan would be able to zero fine particles and reduce NOx emissions by 40%.
Read also Is route 1.5°C for aircraft? Halving emissions by 2035
"The UltraFan demonstrator is a real game changer: the technologies we are testing in this program are able to improve the engines of today and tomorrow. That is why this announcement is so important: we are witnessing the creation of a story, a radical change in the improvement of engine efficiency", says the ad of the company, Tufan Erginbilgic.