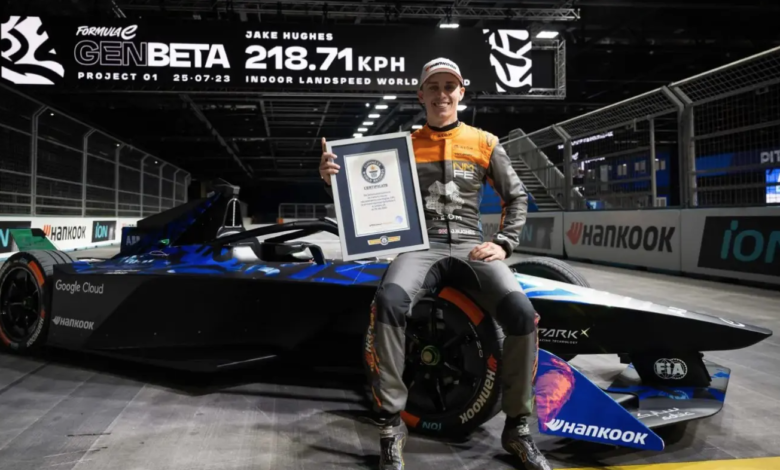 Genbeta, the Formula E car that broke the record, is a modification of the GEN3 model
He is the fastest man in the world… indoors. His name is Jake Huges, a Formula E driver, which allowed an electric car to reach the record speed of 218.71 kilometers per hour, entering the Guinness Book of Records.
Huges' record, which has reached the world record for indoor speed, breaks the previous one, stopped at 165.2 km/h. The race to the Guinness was held at the excel London event arena, an indoor space with a straight for this kind of competition.
Genbeta is the name of the Formula E car that broke the world speed record indoors. It comes from a new innovation program that the Federation is working on, using the GEN3 model (400 kW of power) with changes made by SABIC and Hankook championship partners.
A race to the "Fast and Furious"
Jake Hughes, part of the NEOM McLaren Formula E Team, competed with a rival in the ABB FIA Formula E World Championship, Mahindra Racing Team driver Lucas di Grassi. Normally, in fact, these competitions are held in the "duel" formula. Both drivers use the same car and race on 346 meters of straight track. In practice, a little less than the quarter mile (about 400 meters) made famous by "Fast and Furious". The difference is that you do not run together. Each driver has in fact three test attempts and then one "official", in which to attempt the record. You start from stops inside the arena and make a 130 degree turn at about 40 km/h, before speeding along the straight of the track.
Read also Here's Revolution, the electric racing car that recharges in less than 4 min
British Huges barely made it. In the three races the Brazilian did much better, but at the time of the decisive heat he stopped at 217.65 km/h, a palm from the rival's time. Despite being the most successful driver in Formula E history, for once Lucas di Grassi had to give up, but the two will be back on track from next season.
How is the electric car that broke the record
The race-modified GEN3 is the fastest and lightest electric car in existence. reaches a top speed of over 322 km/h and is the model used by the 11 teams and 22 drivers of the ABB FIA Formula E World Championship. For this Guinness race it was modified with specific interventions that would increase its performance. The battery was brought from 350 kW of power to 400, activating the all-wheel drive for the first time. For the tyres, a new soft compound has been used that guarantees greater grip. Front wing end plates, fins and deflectors were produced with 3D printing to ensure greater aerodynamics in the straight. Small things, in appearance, but they have made a difference.