Wind turbine orders data 2023
China pushes the accelerator on wind energy and drags up the whole market. In just six months, in the country, the demand for new wind turbines has reached 25 GW, more than half of orders for wind turbines made globally in the same time frame. Wood Mackenzie is revealing this by tracing the movements of the compartment in new analysis. The document shows that from January to June 2023, orders for turbines worldwide have reached new highs, with 69.5 gigawatts of assets for a total value of 40.5 billion dollars. This new demand represents an increase of 12% on an annual basis.
And if the People's Republic has contributed in large part to growth, it must also be stressed that it has not been the only one. North America, aided by the generous US IRA, saw demand reach 7.7 GW; more than quadrupled the total in the first half of 2022. "This year we have seen strong demand outside of China, which is really encouraging," said Luke Lewandowski, vice president of global renewable energy research at Wood Mackenzie. "Supply chain challenges remain, but conditions have improved enough to stimulate procurement decisions. The momentum resulting from the Inflation Reduction Act in the United States has helped to motivate the activity of orders, although greater clarity and market certainty will lead to an even greater volume".
read also Discovered the way to recycling wind turbines without breaking them
Despite this, the Asian giant remains the largest wind market, with 44 GW of activity in the first half, although demand has remained stable year on year.
Orders for offshore wind turbines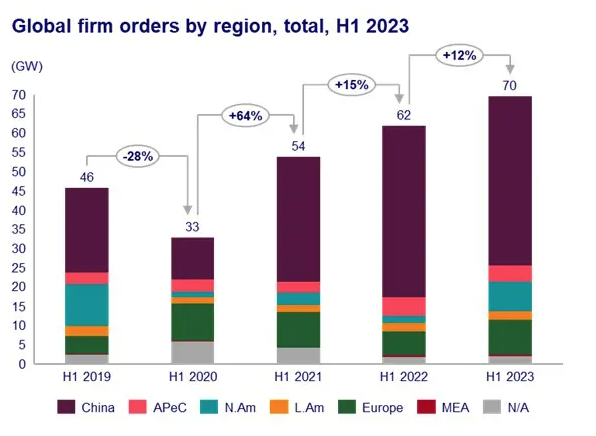 The sub-segment of offshore wind power is also growing. According to analysts Wood Mackenzie orders for offshore turbines received increased by 26% on an annual basis from January to June 2023, reaching a record of 12 GW of activity. "We saw several major projects officially reach a final investment decision in the second quarter, including orders of 2.6 GW and 1.2 GW in North America, which helped to reach record numbers and give some life to these markets", added Lewandowski. "The fact that these agreements have become concrete at a difficult time for OEM finances and amid the cancellation of numerous offtake agreements for large projects is encouraging and significant".
The surge of offshore activities has pushed Siemens Gamesa to first place in the ability to new wind turbine orders in the onshore field that offshore (5,9 GW) according to trimester. Goldwind recorded the second largest number of total order acquisition assets in the second quarter (4.9 GW), followed by Windey (4.4 GW).