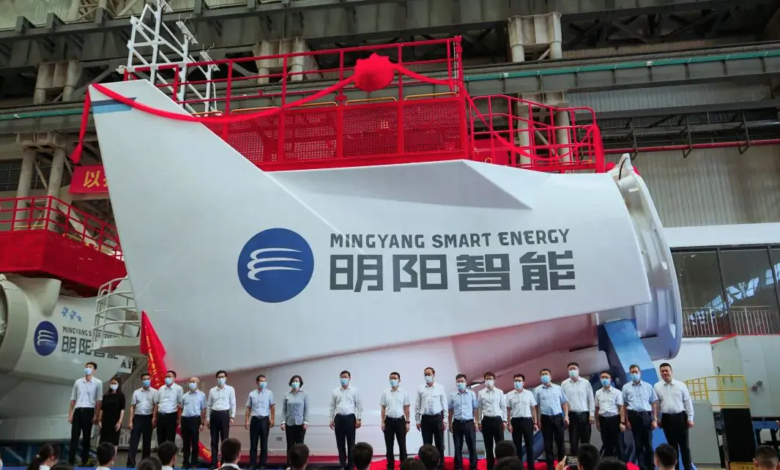 22 MW offshore wind turbine captures all records
The largest offshore wind turbine in the world? The one activated in July this year in China, the GW H252-16MW (16 MW of power) produced by the multinational Goldwind. A record that the country is intent on maintaining by putting into production other wind giants in the near future. Giants like the H260-18MW model (18 MW of power) designed by the Chinese CSSC Haizhuang or as the record generator announced these days by the MingYang Smart Energy Group. The company, says the newspaper Bloomberg, wants to build an offshore wind turbine 22 MW capable of producing over 500,000 kWh per day.
The ability makes it on paper the most powerful generator in the world. And probably also the largest since it will boast a rotor diameter of more than 310 meters and a height of 325 meters.
read also The offshore wind giant of Siemens Gamesa marks a new world record
For such a marine giant, there are many elements to be defined and the time for production – announced for 2025 – seems very little. On the other hand, MingYang is an industry specialist, with several projects designed to withstand extreme weather conditions. Its MySE11-230, a turbine built especially for areas subject to typhoons with medium and high wind speeds, already has a successor. In June this year the group presented the MySE 12MW, a version that integrates new technologies to increase efficiency and reliability of performance. It has been designed to withstand 78.82 m/s gusts of wind, while maintaining a certain lightness in design to make transportation and installation easier and less expensive.
One fact is certain: it will not be necessary to wait for the inauguration of the 22 MW offshore wind turbine to celebrate Beijing's advance in wind energy. While in Europe the big turbine manufacturers are struggling to keep up with the lack of dedicated support, problems in supply chains and new installations slowly, in the People's Republic the industry has started to run. And many fear that European production may be crushed by Chinese competition.