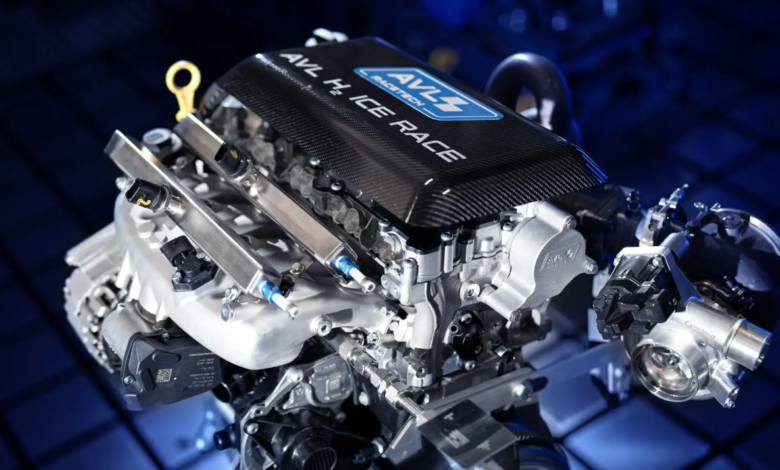 From fuel cells to hydrogen internal combustion engines
After the successes achieved in South Korea thanks to Hyundai-Kia Motor Company, also in Europe we talk about high-performance hydrogen combustion engines. The progress belongs this time to AVL Racetech, the division that specializes in motorsport of the Austrian AVL. These days, the department has celebrated a new success: its two-liter hydrogen racing engine prototype has achieved on the test bench the same high results obtained in simulations. To be precise, it showed a specific power density of about 205 hp per liter (150 kW/l), showing a highly competitive level in the world of motorsport.
Developed in collaboration with the Hungarian Humda Lab, the new turbo hydrogen internal combustion engine seeks to debunk the reputation of H2-ICE, mostly characterized by low performance and lean combustion (high air/fuel ratio). It is no coincidence that in recent years hydrogen mobility has focused on fuel cell electric motors rather than direct combustion.
read also Record for Eco-Runner XIII, hydrogen city car that makes 2,488 km with a full tank
The new hydrogen racing engine
To overcome the historical problems of H2-ICE, AVL has made several design improvements including an intelligent PFI (Premixed Fuel Injection) water injection system. This system increases the water in the aspirated engine air, to avoid premature ignition. The air-to-fuel ratio is 1 (stoichiometric combustion), which places the engine out of the lean belt and the lower air requirement is covered by the use of a Wastegate turbocharger specially designed for this purpose.
"At the end of 2022, we announced for the first time that we would be working on a two-litre racing engine powered by hydrogen with stoichiometric combustion and PFI water injection," says project manager Paul Kapus. "Our targets were 500 Nm of torque and power up to 300 kW. We are proud to have been able to validate this data on the test bench". In detail, the new hydrogen racing engine has reached a maximum power of 410 hp (301.7 kW) at 6,500 rev/min, generating 500 Nm of torque at 3,000 – 4,000 rev/min, which corresponds to an average pressure of 32 bar.
"Without CO2" does not mean without emissions
"AVL Racetech's goal is to lead motorsport into a sustainable future," added Ellen Lohr, AVL Motorsport Director. "With the development of the first racing engine developed under our name – a high-performance H-ICE – we have taken a further step towards achieving this vision". Although burning H2 does not produce carbon dioxide, it should be noted that in combustion in air with free flame, nitrogen oxides (NOx) are inevitably formed.
The next step? Test the new concept on a car on the track.