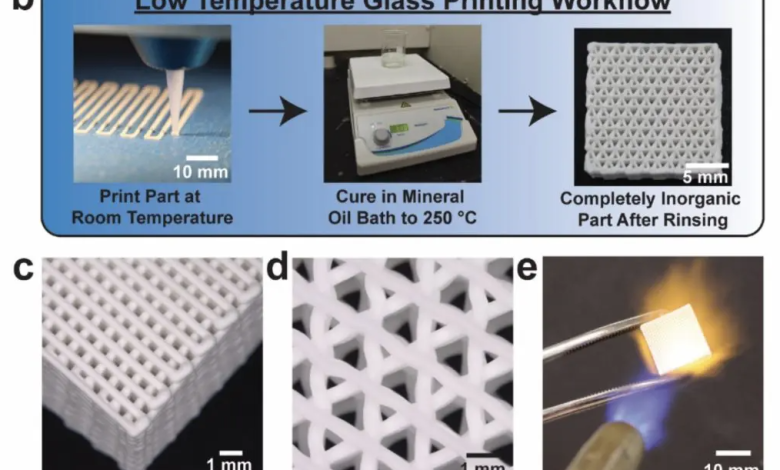 (Sustainabilityenvironment.com) – Researchers at MIT Lincoln Laboratory have developed an innovative system for 3D printing of low-temperature, high-performance glass objects.
Experimentation in itself has already led to the printing of glass in 3D, but the innovation introduced by Lincoln researchers is precisely the sharp reduction in the temperature necessary for the process.
Glass post-processing usually involves exposure to temperatures close to 1,000 ºC to produce a completely inorganic material. Regardless of the system used for printing, that is with direct ink, two-photon lithography or stereolithography, the process still requires the use of a refrectorial and non–thermosensitive instrumentation, limiting very much the choice of raw materials to be used.
"Emerging techniques for additive generation of inorganic structures have the potential to disrupt the ceramic and glass industries," says the team in the article "Low-Temperature Additive Manufacturing of Glass". "Glass offers advantages over other additive manufacturing materials, such as improved biocompatibility and increased thermal stability. However, current methods for glass production require high temperatures to produce a completely inorganic part".
This is where the system developed by research comes in.
3D printing that eliminates the temperature problem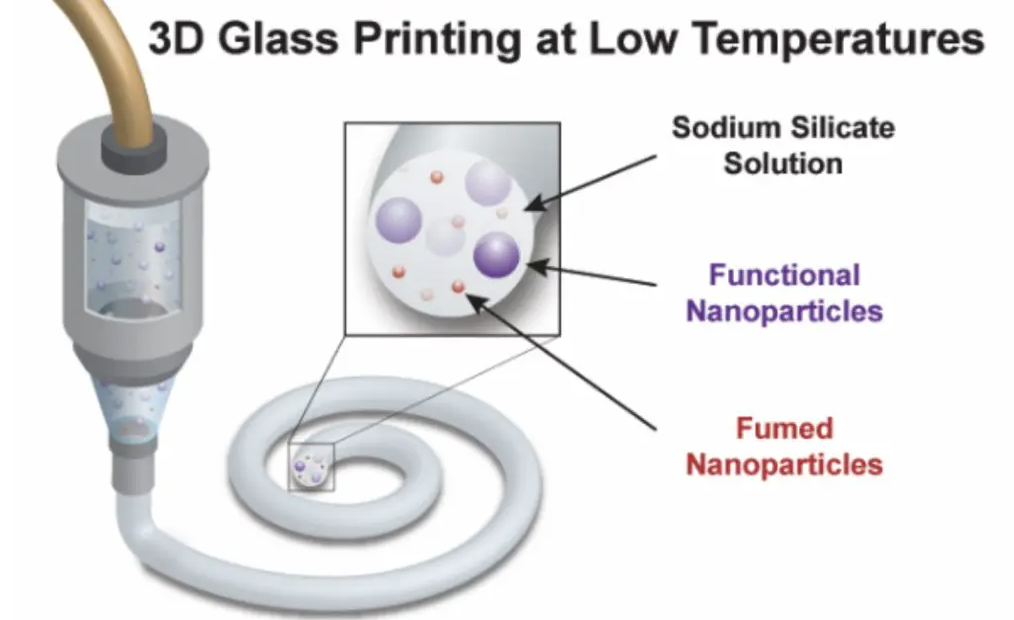 The answer is in the nanocompound used: a solution of sodium silicate incorporated to functional nanoparticles, as well as into Silica fumata nanoparticles (Fumed Silica) to increase solubility. Put together these three elements can be in fact molded to temperature base, obtaining however a variety of materials with multiple characteristics. Adding to the curing process a mineral oil bath also, the material showed greater stability and strength.
One point still to be optimized, however, according to the researchers at MIT, is the increase in optical clarity.
"We showed a modular system that can be tuned to print a wide variety of inorganic glasses with embedded functional nanomaterials (dielectric, metallic and optical)," explain the scientists. "We expect this versatile material platform, when combined with multi-material additive manufacturing, will enable the manufacture of a wide variety of robust microsystems". "The main advantage of this technique lies in its simplicity," the researchers conclude.
Read also Acorn the curved concrete floor, reusable and removable
Optimizing the glass 3D printing process by eliminating the problem of high temperatures would pave the way for many applications. This could lead to high-performance glass surfaces depending on the nanomaterial added to the interior. Or produce glass that can react to the environment thanks to the addition of shape memory materials. In short, experimentation is only at the beginning and the possibilities are endless.