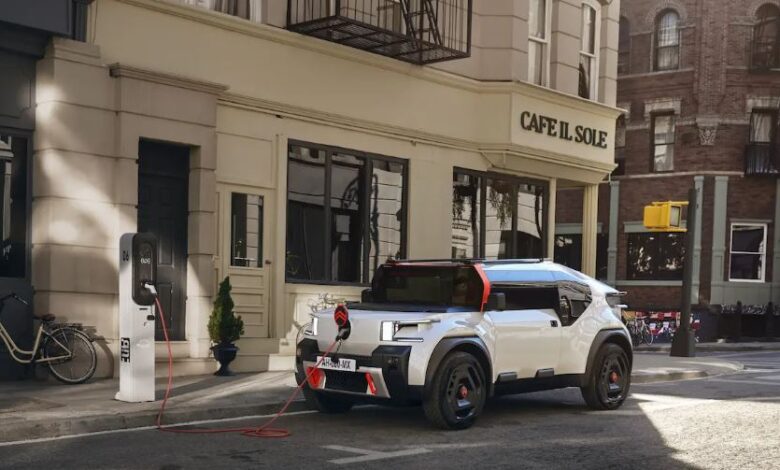 (sustainabilityenvironment.com) – How much can you save by reducing vehicle weight and the amount of resources employed? From this question was born Citroën Oli, the curious electric concept car made by the French company in collaboration with the chemical multinational BASF. Halfway between an SUV and an ultra compact pickup, Citroën Oli is actually an innovative "workshop on wheels" designed to move the needle of mobility away from current trends in the industry, namely increasingly heavy battery vehicles, complex and expensive. Overall, the car is a manifesto of feasible ideas and solutions to reduce the weight and complexity of electric cars while maximizing efficiency, versatility and accessibility.
"We wanted to use only the amount of materials we really needed, so we have ruthlessly pursued the objective of putting the right resources where they are required, and limiting the impact of the use of those resources" says Laurence Hansen, Head of Product Development at Citroën.
Read also The world's first carbon-neutral car that captures CO2
"So we pursued with tenacity the goal of putting the right resources where needed, limiting the impact of their use". The seats, for example, are built in a simple way and use 80% less parts than a traditional seat. Made with recycled materials they offer a back with a "mesh" design that improves the natural light inside the vehicle. They can also be easily updated or customized to suit the tastes of individual owners.
Another incredible feature – explains BASF – is that many of the new components have been designed and manufactured with materials that belong to the same family of chemicals.
"Components made from different materials that are glued and welded together are a problem for mechanical recycling. For this reason, the designers chose to develop as many components as possible from a single material".
Although it appears aesthetically massive, Citroën Oli is neither heavy nor bulky: about 1000 kg for 4.20 m long and 1.90 m wide. Lightness indirectly helps to extend the autonomy of the medium. The electric concept car only needs a 40 kWh battery to count on a 400 km drive with one charge. By limiting the maximum speed to 110 km/h to maximise efficiency, it is realistic to achieve a consumption of 10 kWh/100 km. Not only that. Thanks to its "Vehicle to Load" capacity and a 3.6 kW power outlet, Oli can theoretically power a 3000 W electric device for about 12 hours.