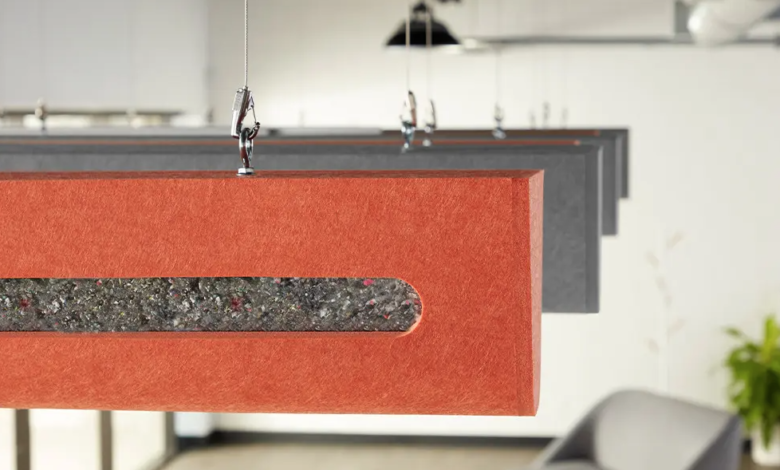 How to recycling plastic bottles
(sustainabilityenvironment.com) – Improve the acoustics of offices and large spaces, through the recycling of plastic bottles and sneakers? Kirei decided to do this by launching the Air Baffle line of sound-absorbing panels. The acoustic panels have a design inspired by the Nike Air Max, exploit the insulating properties of PET felt and use as filler materials the Nike Grind, a special fluff made from the recycling of Nike shoes at the end of life.
For the president of Kirei, John Stein, it is the "most performing and sustainable product" made by the company, which makes it a business card for its sustainability strategies. "By reducing waste and supporting a circular product lifecycle, Kirei hopes to be a pioneer in a more sustainable way of recycling foam and other products for reuse in high-end interior design".
The recycling of sneakers
The father of this new invention is called Michael DiTullo, twenty years of experience as a creator of products for companies such as Google, Honda and Converse, where he was engaged in the creation of shoe design, packaging and advertising campaigns. Air Baffle derives from DiTullo's experience in the footwear industry: in his life before Kirei, the creative has helped position the Nike brand with extensive marketing operations. In 2019 he arrived at Kirei's home and here his skills in acoustics and sneakers led to an innovative approach: recycling acoustic foam to make sound-absorbing panels.
Read also Plastic recycling: studied the super worms that can digest polystyrene
"In my career, I've worked on hundreds of shoes for Nike, Jordan, Converse and other brands". "It was a real joy to design a product that helps save those shoes from landfill at the end of their useful life as footwear, and find for them a new way of use as architectural acoustic products".
Air Buffle sound absorbing panels
Air Baffle is a line of acoustic baffles made by the recycling of sneakers but also employs plastic waste. The external hull is in fact made of 12 mm thick EchoPanel, a felt produced by the recycling of plastic bottles that contains at least 60% of post-consumer content from disposable bottles. It is then filled with Nike Grind fluff, a mix of recycled materials created by Nike footwear at the end of life.
Recycled plastic felt is defined by Kirei as the best acoustic material currently available in the industry, a healthy and aesthetically pleasing alternative to solve the acoustic needs of indoor environments. It is versatile and customizable in different colors and shapes to be adapted to different spaces and configurations without losing its essential ability to absorb the ambient sound.
Air Baffle sound-absorbing panels can be completely closed or have a window that allows you to see the interior obtained by the recycling of the sneakers inside. The windows are made with a copolyester resin certified GREENGUARD in fireproof PETG. The percentage of secondary materials present in each deflector is 40% and the panels are 100% recyclable.