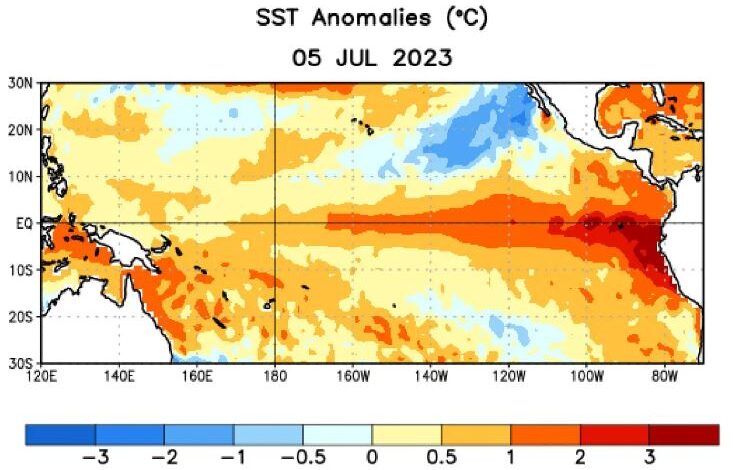 The latest NOAA estimates on El Niño 2023
(sustainabilityenvironment.com) – The peak of El Niño 2023 will arrive in winter and there is 1 chance in 5 that will have an intensity "historical". This is supported by NOAA, the National Ocean and Atmospheric Administration of the United States, in the latest update of forecasts on the phenomenon that could lead to new global warming records in the coming months. El Niño is a phenomenon of atmospheric teleconnection, of natural and cyclic origin, which develops in the Pacific but has repercussions on the global climate. It does not depend on human activity but amplifies the climate change of anthropic origin.
How intense will El Niño 2023 be?
According to NOAA scientists, the signal of the "Child" that emerged in the eastern Pacific around May is gradually strengthening and should continue along this trajectory throughout the autumn. Until you get, with the winter season or from December, to an intensity "from moderate to strong". It is the hypothesis that Noaa considers more probable with the 81% of chances.
Read also The return of El Niño prepares more epidemics of dengue, Zika and chikungunya
This category includes the events of El Niño which, in region 3.4, that is, a thin strip of central Pacific straddling the equator, between the 5° North and the 5° South, and the 120-170° West, maintain a thermal anomaly of the surface waters greater than 1°C.
However, NOAA still does not dismiss the hypothesis that El Niño 2023 may become even more intense between the end of this year and the first months of 2024. "An event that becomes "historically strong" (seasonally averaged Niño-3.4 ≥ 2.0°C), rivaling the winters of 1997-98 or 2015-16, has an approximately 1 in 5 chance", writes the NOAA. It would be, that is, an event of intensity comparable to that of the major events recorded in recent decades, including the last major episode started in 2015 that led to 2016 becoming the hottest year ever until now.
Even in the most probable scenario, that of a Child of average intensity, it is now quite probable that 2023 is destined to break the 2016 record and be ranked first in the ranking of the hottest years ever globally. According to ERA5 data, the latest generation of European climate data retest, based on the values of the first half of the year, the most likely estimate for the value of global warming in 2023 is +1.37 °C.