A Canadian social entrepreneur began building a community of 67 off-grid townhouses in eastern Ontario
In a few months, in the city of Toronto, it will be possible to admire a community of 67 off-grid homes, zero energy and highly sustainable. The project is carried out by a well-known Canadian housing company, CABN, which for the first time will turn the idea into reality.
What are the Off-grid homes
But what does it mean to live in a building not connected to major energy and water infrastructure networks? Usually the houses of this type have small dimensions and a cutting-edge construction technology. They are equipped with modern systems for the production of clean energy and protected by highly insulated building envelope. Moreover, they must be equipped with technological systems capable of treating wastewater making it non-polluting, as well as being prepared for the collection and reuse of rainwater. Often off-grid goes hand in hand with eco-friendly, in the imagination of an environmentally friendly housing type in which it fits. The fact of not having to depend on existing networks makes them suitable even for the most pleasant places, far from civilization. For this reason, off-grid homes must be designed with environmentally friendly and recyclable materials, with low environmental impact.
The community of 67 Canadian off-grid homes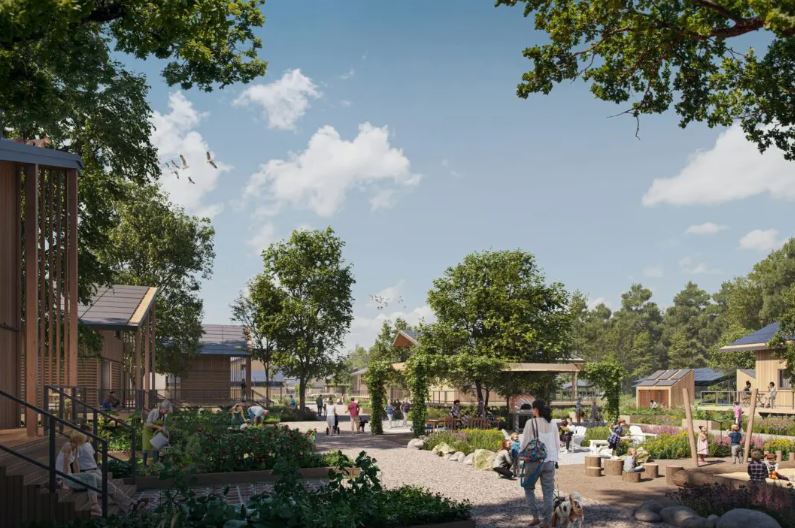 Social entrepreneur Jackson Wyatt, CEO of CABN, sees the project under construction in Eastern Ontario as a new frontier in housing, a solution to the housing crisis and the need for greater efficiency of the housing sector. The 67 houses will be "smart" as well as representing the perfect synthesis between design, manufacturing and assembly. According to the company's estimates, homes will use only 20% of the energy usually needed to power a traditional home.
The houses are available in various sizes depending on the need; the prefabricated construction of the modules speeds up time and reduces waste allowing you to "assemble" a house in less than a week.
Read also Save energy at home by recreating extreme climate effects in the laboratory
Zero energy and zero waste
The structure developed by CABN is designed to ensure the best performance of external insulation, maintaining a comfort zone between 21 and 24 ºC with a minimum external energy requirement. The construction system uses prefabrication to eliminate waste and reduce construction waste, with less CO2 consumption. Before moving on to the construction phase, all CABN off-grid cases are tested with a specific software that considers the seasonal temperature variations, humidity, the ideal air quality. In this way we consider all the variables useful to obtain a net-zero building and high performance:
The windows are triple glass highly insulating with U value 0.8
A heat recovery system mixes indoor and outdoor air to reduce cooling and heating consumption
domestic hot water reduces consumption by ³ thanks to the integrated heat pump that also manages the air conditioning
Insulation and coating take advantage of cross-laminated X-LAM panels with high performance wood fiber insulation
The supporting structure uses CLT technology
Photovoltaic panels on the roof ensure clean energy throughout the year
All materials come from certified and environmentally friendly routes
How much does an off-grid house cost?
The homes designed by the Canadian company start from a minimum of $ 210,000 for the smallest house (about 50 square meters), up to $ 550,000 of the largest house (about 171 square meters). Obviously these are prices "turnkey" for homes already complete with every detail and, above all, already built, as well as being placed in a truly impressive natural landscape. To build from scratch an off-grid house could be enough between 7,000 and 10,000 euros, rising up to 1,000 euros per square meter for the most sophisticated off grid homes.