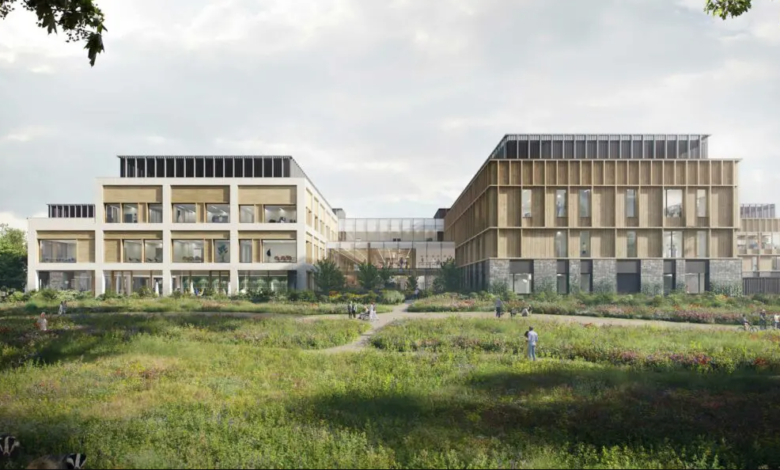 Green building principles, materials, renewable energy and plant innovation will help achieve BREEAM Excellent certification
(sustainabilityenvironment.com) – Designers from Sweden are planning to design one of the UK's most sustainable hospitals, 100% powered by renewable electricity. This is the Velindre Cancer Center, a green building commissioned by White Arkitekter for the city of Cardiff and Wales.
Developed on the principles of the circular economy, the future hospital will be built with low-carbon materials incorporated and operational.
Wood will be the predominant material while the finishing will only take place with organic-based plasters in clay and lime. The green building design will replace the wood where necessary for clinical needs, green concrete from recycling paths, produced replacing cement a by-product recovered from waste from the steel industry.
A sustainable hospital for the environment and patients
The internal surface will develop along 32,000 square meters minimizing the impact on the surrounding environment. The principles of green building will also help to achieve the BREEAM Excellent target by exploiting 100% of electricity produced from renewable sources on-site, such as photovoltaics on the roof, or in the immediate vicinity. Geothermal and air heat knobs will help improve the efficiency of the cooling and heating system, while a rainwater drainage system will help reduce water waste.
read also University of East London partners with Siemens to deliver carbon neutral by 2030
The green areas inside the structure are also inspired by green building and sustainability. Part of the gardens will be dedicated to the cultivation of community gardens and orchards, while outside, the Welsh landscape will be preserved in its naturalness, to promote local biodiversity.

The facade of the Velindre Cancer Center will allow an easy reconfiguration of the interior spaces without the need for structural interventions. An essential element to ensure that the hospital can evolve with changing needs and technological progress.